How our FDA-Cleared SyntrFuge System Works
Built for ease of use, consistency, and affordability.
Our FDA-Cleared SyntrFuge System utilizes 3 simple steps to produce high quality and viable microfat time and time again, without the need for an OR.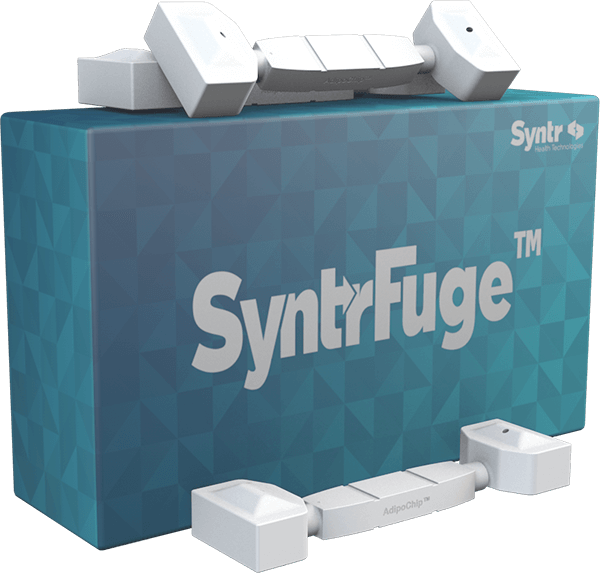 Easy processing procedures
A Syringe Vacuum Liposuction method allows clinicians and doctors to avoid the need for an expensive OR Suite, as no general anesthesia is needed. Obtain a quick collection of a patients own fat in the convenience of an office setting.

Automated fat processing using the SyntrFuge system. This ensures consistent fat processing that yields high cell viability to produce ideal microfat for injection.

Reinjection of microfat from a patient's own processed tissue using a blunt tip cannula for safer and more precise injection.
Consistent, Affordable, and Easy to Use Across any Clinical Setting
The SyntrFuge System allows you to feel confident in the quality of fat transfers.
Current fat transfer solutions are cumbersome and user dependent. The SyntrFuge System offers microsized fat that increases retention potential.
1,4
Take the Time out of Fat Transfer
Stand out amongst current "manual" methods with an automated fat processing device. Syntr's straightforward and reproducible Microfat process can be done in as little as 45 min.
A Natural and Cost-Effective Solution
Relying on the body's own adipose tissue means you can offer a natural alternative that's also cost-effective for patients.
1
Avoid the Need for an Operating Room
Our system can be used in-office, with no OR needed, providing you the flexibility to offer patients fat transfer treatments without disruptive changes to your practice or your bottom line.
The SyntrFuge System Delivers Results You Can Count On
Syntr is the only automated system that can create Microfat with a comprehensive process that offers consistent high cell viability.
Join our growing network of clinician partners.
Apply to become a Syntr partner. Sign up to be one of the first 50 users.
We will work with you at your facility to familiarize and train your practice
Join our growing list of Syntr partners offering
natural and affordable Microfat treatments
Stay Connected To Receive Important Updates